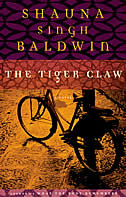 Finalist for The 2004 Giller Prize
Bestseller: Edmonton Journal, Calgary Herald

National Bestseller (India) (#5 Feb 6, 2005, The Tribune, India, #11 May 9, 2005)

Finalist, India's Hutch Prize 2006

"
The Tiger Claw
is a first rate spy thriller and also first rate literature. Set in the 40s in Occupied Paris with haunting similarities to the world today, this is a novel that reminds us that sometimes only fiction can really tell us the truth…The story of one woman's courage in the face of racism, betrayal and hypocrisy on one hand and the evils of war on the other. It is also a love story between Muslim and Jew told in a language that resonates with mysticism and romance — yet it is brutally honest in its assessment of motives and ambiguities." —
Giller Prize Judges
"…Baldwin finds a Muslim woman who has much to teach our own time…deliberately turning the [spy novel] genre inside out and giving it a good shake, in order to explore the interplay of racism, sexism and imperialism…Baldwin is …far more overtly political than most of Canada's younger novelists (she was born in Montreal), and she becomes more ambitious with every book…Years of careful research on three continents, as well as extensive contact with her subject's extended family, result in a portrait of Noor Inayat Khan that explains why she did what she did in compelling, convincing ways. It's a noble undertaking and a considerable achievement."
—The Globe and Mail
"Baldwin's luminous prose captures the reader's attention. . . . [She] immerses the reader in the atmosphere of the Vichy era, replete with undercurrents of terror and prejudice. . . . Readers, especially those interested in history and politics, will be intrigued by this gripping, richly textured novel penned by a consummate storyteller."
—Winnipeg Free Press
"Baldwin has succeeded in crafting yet another indelible story based in fact."

"The Tiger Claw brilliantly reveals the shifting sands of allegiance in times of war and the duplicity required for survival when all who are operating underground are interdependent but no one can be trusted fully."

"Shauna Singh Baldwin's second novel, The Tiger Claw, muses on the dangers of tribal intolerances in ways that would enlighten contemporary leaders, and peoples, embroiled in their own disputes. . . . This is Canadian-born Baldwin's second historical novel, a genre in which she excels. . . . While the fictional Noor Khan is sometimes earnest, especially when contemplating her absent lover and the child they conceived, then aborted, she's complex enough to keep the reader interested. So are the Resistance fighters working with her in Paris and the members of her extended family. Her brother Kabir, who eventually becomes a Sufi holy man, preaching the ideals of peace and tolerance while remaining dangerously close-minded with the people he loves, is the strongest character of all. Like so much in this fine novel, he rings disturbingly true." —
The Gazette (Montreal)
"Stayed up late and got up early to finish
Tiger Claw
.

I cried. Now I feel haunted. Thanks for a great read. Noor is now a permanent part of my invisible community. Thank you for bringing Noor into my pantheon." —

Jean Feraca, host of HERE ON EARTH

Wisconsin Public Radio/

Public Radio International

"The Tiger Claw is a paean to miscegenation, to cosmopolitanism, to Sufi Universalism, to love." —
Today (India).
"Baldwin tells a completely riveting story, brought to life by the thousand tiny details that spring from the most involved research. She takes you to Occupied France and into Noor's story with haunting persuasiveness. And she comments elegantly on the universal victims of oppression – free will and human dignity – to show us how embracing a multi-faceted identity in a multi-faceted world alchemically turns victimization into resistance."
— Biblio (India).
"Remarkably well-researched novel…Ms Baldwin has skillfully transformed war and espionage, both traditional elements of male-oriented literature, into the foreground of a woman's narrative."
— Dawn (Pakistan)
"A stirring tale of love and betrayal in a foreign land. Like the troubadour, [Baldwin] has the natural gift of pinning you to the window of her imagination until you hang by her each word and every twist and turn of the tale, begging for more…the novelist makes full use of Khan's nuanced inheritance . . . the manner in which Baldwin illustrates how helpless individuals are in resisting state-sponsored fear and hatred against their fellow citizens forms the most impressive part of her story. . .Baldwin's account is a long "J'Accuse!" type of narrative that links the plight of all victims – whether they are called Noor or Rivkin."
— India Today
.

"It's a fiction closer to truth than any authorised account. . .Baldwin's ability to bring her characters to life has never been in question and it reigns supreme now, as we f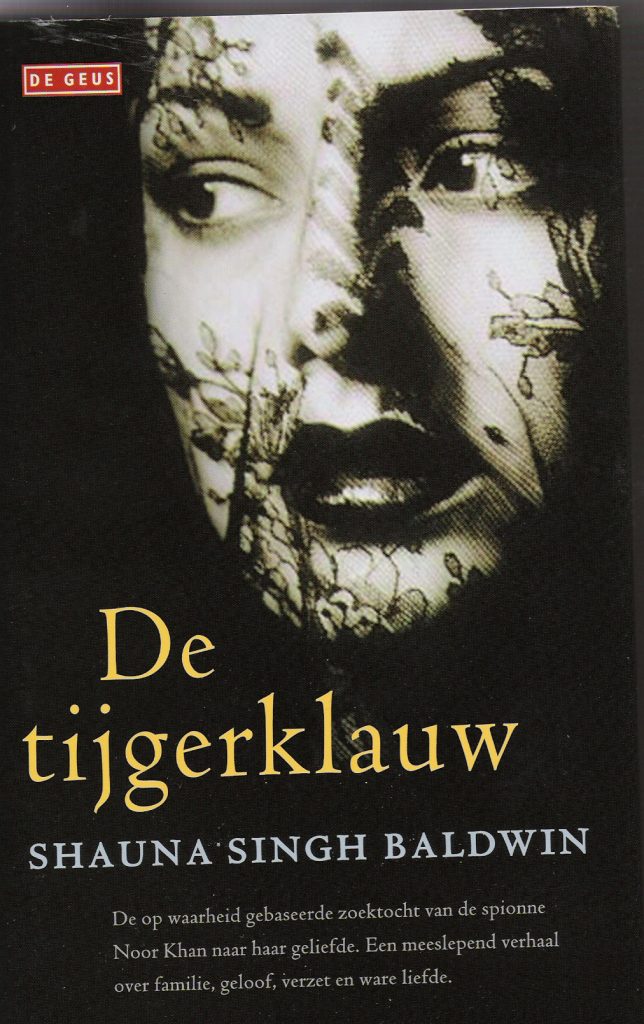 ollow Noor through danger and romance, concentration camps and safe houses. And the Tiger Claw raises fierce questions…The book's simplicity is deceptive: it may look like a war yarn in brownface, but Baldwin aims for nothing less than to rewrite Imperial history. . ."

Outlook (India)

"The book poignantly addresses the obsession with race and identity through Hitler's Germany."

Financial Express (New Delhi, India)

"What might have turned into a simple war-time love story takes shape as a discourse on tolerance, a comment on the clash of cultures in a war-torn world. . . The Tiger Claw offers glimpses of a fairy tale romance minus the happy ending. Like other war-time espoinage, this one too has many gaping wounds to be sutured and memories to be sifted through. And Baldwin goes through them carefully."

I
ndian Express (New Delhi, India)
"A good story, this! . . . Why another book on the Second World War? . . .the issues raised in Noor's story are as relevant today as then."

The Hindu (India)

"What strikes you about the novel, as you make your way through it, is just how very ambitious and concentrated an effort it is."

First City magazine (New Delhi, India)

"Shauna Singh Baldwin is in a different league…The Tiger Claw is straightforward war romance, backed by deft writing and a visible effort on Baldwin's part to understand the workings of the Resistance and the twists and turns of war. . . The Tiger Claw, taken in isolation, would be enough to compensate for some of the neglect of that [WWII] portion of our country's history…"

(Business Standard, India)

". . .gives an imaginative insight into her protagonist's psyche."
Indian Express, New Delhi
"…passionate, provocative, and brilliant…The book works on several levels depending on what the reader wants it to be – a love story, a spy thriller, a personal journey of a woman to find herself, a book that traces the roots of conflicts, or just a fabulous read…If you are looking for a friend to turn to every time fear about the world and insecurity about yourself creeps up, this is the book to buy."
Oncewritten.com
Moving and ardent. The author is brutally honest through her characters and spares no one as she compels us to think about the world we live in. . . If you are looking for a friend to turn to every time fear and insecurity about yourself and the world creep up, this is the book to have at your bedside.
Islam Online,
Egypt
The Tiger Claw is certainly a dextrously organised story of Noor and her work in Paris with the French Resistance as well as her own life as a Sufi Muslim who sought employment with the British intelligence.

Advance praise:

"A deeply felt, richly evocative novel that resurrects and reinvents a remarkable life, The Tiger Claw tells an affecting story of love and loss amidst the turbulence of war and human dislocation. It confirms Shauna Singh Baldwin as a major literary voice that transcends the borders that divide human experience."

— Shashi Tharoor

"The Tiger Claw is a fascinating story of moral complexity, inner conflict and exile, a magnificent portrait of a very courageous woman, Noor Inayat Khan, the legendary French Resistance fighter, whose divided conscience is reflected in the drama of Nazi-occupied France and British-occupied India. That Noor strikes us a modern figure of heroism and doubt is because of the compelling vision of Shauna Singh Baldwin."

— Marie-Claire Blais

"The Tiger Claw is a brilliant novel, a harrowing story of espionage and love, of loyalty and betrayal in the treacherous world of WW II Europe. Shauna Singh Baldwin has an astonishing ability to paint a very large canvas with amazing detail. You are there. 'Impressive' hardly even begins to describe it: masterful. I could not put it down. A stunning achievement, but most of all, important."

—Sandra Gulland, author of The Josephine B. Trilogy

"The novel's heroine, setting and themes show how the motivations of soldiers and the casualties of war are many, varied and deeply personal."

See also:

Behind the book. Author essay about the background of the story.

Interview with Lindsay Pereira
, largely about
The Tiger Claw
.

Cracking Canada's literary code
: Giller nominees reveal persistent obsession with past and small towns. A commentary on the books shortlisted for the Giller Prize, in the
Toronto Star.
Torn Apart.
Review by MJ Stone in
Hour.ca
(Ottawa, Canada)

Mystic Spies
– Anuradha Raman's review in the
I
ndian Express.