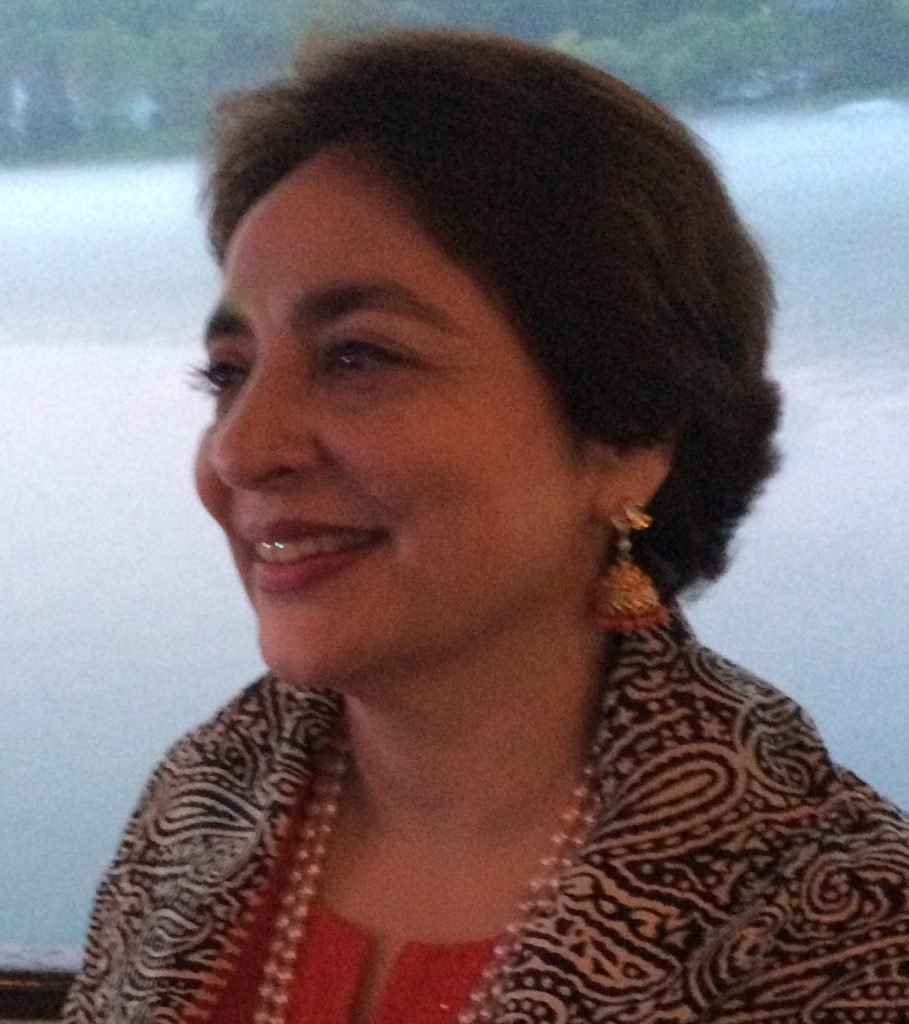 Sukhwant Kaur, my grandmother whom we called Bibiji, was an early adopter of all kitchen technology. She used to make and freeze masala for quick curries. But despite using blenders, she still had to follow the old-fashioned way and stir and stir. I find that using a crockpot helps when you're writing and tend to forget things left cooking on the stove…it prevents me from burning the house down. It tastes much better than a curry made with a pressure cooker, but you be the judge. Test it out, let me know what you think
Enjoy!
Shauna Singh Baldwin
Five steps to any curry:
1. Make Easy Any Curry Masala (sauce).
2. Add Masala and vegs/meat/poultry to crockpot
3. Add tarka (infused oil)
4. Add a 1/4 cup coconut milk for Thai curry/2 tbsps cream or yoghurt for Punjabi-style curry
5. Add garnish of dhania (cilantro)
Easy Any Curry Masala (sauce):
4 tomatoes – red as possible, firm but not soft
1 pkg frozen chopped onions – Orieda is a good brand, but any will do.
Blend in blender till pureed.
Divide into two portions – freeze one and use one.
To use Masala (Sauce) in Curries
For instance — thaw in microwave and place in the bottom of the crockpot:
4 chopped potatoes, (1.2 lbs)
1 can garbonzo beans
1/4 pkg frozen petite peas (thaw by microwaving for 3 mins)
Add Easy Any Curry Masala.
OR:
For instance, thaw in microwave and place in the bottom of the crockpot:
1 pkg chopped mushrooms
1 pkg frozen asparagus spears
Add Easy Any Curry Masala.
and you get Mushroom-Asparagus Curry
Now add the finishing touch – tarka.
To make tarka (infused oil):
In a small frying pan, heat one tablespoon of vegetable ghee on medium (don't substitute butter or margarine or olive oil or you will completely lose the South-Asian taste). When hot but not smoking, add one tablespoon of garam masala, one teaspoon of turmeric, one teaspoon ginger paste, or ginger-garlic paste if you like garlic. Mix with a spoon and heat for 3 mins.
Add this tarka to the curry in the crockpot.
Creativity lies in going beyond this basic recipe to experiment with spices. And vary the spices so all your dishes don't taste the same. I usually add one bay leaf to be removed before serving, and a stick of cinnamon to the above but there's no harm done if you leave these out.
Turn on the crockpot on low.
Leave on for 4 hours min. If more, don't worry, it can't burn.
The longer you leave it, the mushier the curry will be — but it will still taste fine.
When you're ready to eat it,
Add 1 tsp salt or more, pepper to taste, fresh coriander as garnish.
And enjoy!
Enhancements and alternatives:
In the above recipe, get creative and add a pkg of thawed frozen vegs of your choice. If you're making non-veg, add chicken and you have Chicken Curry.
Substitute a pkg (1.3 lbs or so) of stew beef and a peeled potato and you have a great Meat curry. Substitute a pkg (1.3 lbs or so) of ground lamb/beef/turkey and you'll have a nice Keema curry. Mutton is most authentic.
Add 1/4 cup whipping cream to the Chicken Curry recipe and you have a good approximation of butter chicken.
Mixes of Meat and Vegs become Pakistani/Mughal style curries. For instance, ground lamb/chopped spinach, stew beef/chopped collard spinach.
Addition of very hot spices make curries South-Indian in style.
You can also buy packages of chicken or vegetable curry spices at an Indian grocery store.
The spice called "curry" in North American grocery stores is some vile mixture. There is no such thing in India.
Also see: Shauna Singh Baldwin's Easy Any Daal Recipe
Beginning Shopping List from an Indian Grocery Store:
1 box garam masala
1 box turmeric
Ginger-garlic paste or ginger paste
Frozen naans and rotis (2 pkgs of 4) Avoid frozen parathas – very fattening.
Pickles
Fresh Coriander leaves (1 bunch).
At the Indian Grocery Store, review the number of grams of fat when buying canned curry masalas. 
Mango, Mixed, Lime, and Tomato pickles.
Beginning Shopping list from a North-American Grocery Store:
2 pkgs of frozen onions
1 pkg of frozen mixed vegs of your choice
Pkg of petite sweet peas
2 large baking potatoes
8 firm red tomatoes for curry (two batches of above curry masala recipe)
Fat-free plain yoghurt – Dannon is a good brand.
Whole wheat or Flour tortillas (if you were unable to get frozen Naan or roti at your Indian grocery store). Get a package of 8-10 and make sure it's resealable. Heat in microwave 10 secs/tortilla or wrap in foil and heat in the conventional oven 15 mins at 250.
(Btw, tortillas are great with a slice of Brie and a tsp of tomato pickle as a snack. Wrap and zap for 10 secs in the microwave.)